Signs with your Deadline in Mind
Our mission is to provide wide format prints and signs to you before your deadline.
Signs made just how you want. We can help with design as well. More text that we need to write to make it sound  great.
The quickesy to get your product is to not wait around for a quote. Our online store offers instant quoting with no need to wait for us. More text added here.
We wanted to make sure you have the easiest way to order our products. Having the products organized in a step by step process allows you to customize each item without the waiting time.
CUSTOM BANNERS
Have something important to share? Need to show off a big idea? We're here for you.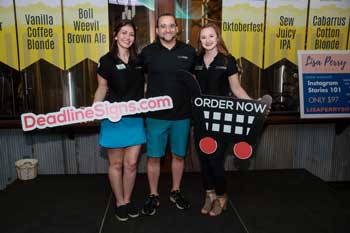 What is Deadline Signs?
Deadline Signs is the online store and digital print division of Two Minds Group. Two Minds Group was founded in 2011. It started as a graphic design company and quickly evolved into a digital creative agency that did wide format printing in-house. Throughout the 8 years in business, a resounding solution we have provided to our customers is that we saved them by getting their job completed by their deadline.
Why Pick Deadline Signs?
Don't just take it from us, let our customers do the talking!