Sign Printing with your Deadline in Mind
Our mission is to provide wide format prints and signs to you before your deadline.
We create signs just how you want. We print directly to all of our materials and cut them down into any shape. We can also help with designing your sign.
Our online store offers instant quoting with no need to wait for us. Just create a quote, login and build your quote now. For bulk ordering, select the "request a quote" option and a team member will create a customized quote to fit your needs.
We wanted to make sure you have the easiest way to order our products. Each item is organized in a step by step process to allow you to customize each product without the waiting time. We offer various shipping options too.
We work with a variety of industries. Look for your industry and then see what type of signs and products they are purchasing.
CUSTOM BANNERS
Have something important to share? Need to show off a big idea? We're here for you.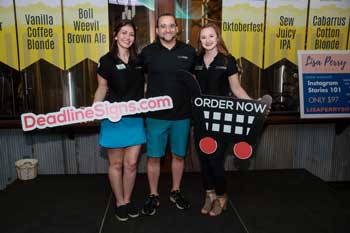 What is Deadline Signs?
Deadline Signs is a sign printing business that moves FAST. We want to get your last minute signs to you by your deadline. It's what we pride ourselves on. Sign Printing is what we think about when we go to sleep and when we wake up in the morning. Use our website to buy your signs online and get help with your designs if needed. We are with you every step of the way. And if you need to, you can always talk to a real person. Let's get started!
Why Pick Deadline Signs?
Don't just take it from us, let our customers do the talking!