Product Description
PVC Signs are most commonly known as plastic signs designed for short term outdoor signage or long term indoor signage. This material has a smooth finish giving them a professional, clean, and sleek appearance. The most common uses are for handheld welcome signs or retail display signs.
Our PVC is a durable, rigid and medium weight material. PVC is a tough plastic substrate that is great for indoor or outdoor uses. It is made of naturally-occurring plastic compounds making them great for exterior directional signage and architectural signage.
This material has a long lifespan indoors and has a variety of uses including tradeshows, real estate signs, promotional events, and hanging signs for retail companies. PVC signs can be mounted using screws, double-sided adhesive as well as other displaying systems. This material is easily cut and formed into any custom shapes. Since this material is lightweight and made of plastic then it makes an ideal solution for use in virtually any environment, to advertise any type of message.
Our PVC is available in 3 mil, 6 mil, and 12 mil thickness allowing your PVC sign to fit the needs of your business. We would recommend this material if you are looking for a product similar to foam core but with more durability and a longer lifespan.
Please note: We do not carry 12 mil PVC in stock. It is a special order. Pricing and availability may vary. Please contact us before ordering.
Uses:
» Church Welcome Signs
» Hanging Retail Signs
» Menu Boards
» Directional Signs
» Photo Prints
» Dimensional Signage
» Handheld Signs
» Business Signage
Benefits:
» IndoorOutdoor
» Smooth Finish
» Cut/Contour
» Fingerprint Resistant
» Water Restiant
» Medium Weight
» Versatile
THICKNESS OPTIONS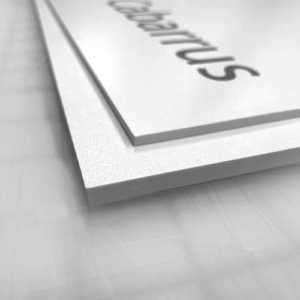 3 mil PVC
This thinner material is the most common used thickness for handheld signs, displays, and retail hanging signs.
6 mil PVC
This thicker option is used for signs that need a more stability and durability.
12 mil PVC
The thickest option is used for when maxium rigidness is needed or 3 dimensional is preffered. (Not Pictured)
SPECIFICATIONS
Available in 3 mil, 6 mil, and 12 mil.
Cut Contour, Double Sided Not Availible in 12 mil, Durable, Weather Resistant
Digital Printed with UV Ink, Full Color, High Quality Print available if requested
With proper placement, care, storage PVC can last 5+ years indoors and 6 mil and 12 Mil PVC could have a longer life span