Product Description
Corrugated Plastic is an extremly popular product becuase it is budget-friendly, easy to use, and very verstile. They can be used to create life size cutouts, paddle signs, stacakble boxes and of course lawn signs.
Corrugated Plastic is a tough plastic rigid substrate that is great for outdoor use. It has flutes to give the material durability. This allows for them to be displayed as yard signs with metal stakes.  The corrugated flutes create a lightweight material that can be easily transported. Since this material is lightweight and made of plastic then it makes an ideal solution for use in virtually any environment, to advertise any type of message.
This material has a variety of uses inlcuding yards signs, presentation signs (easel signs), real estate signs, and directional signage. Corrugated Plastic can be used  for sidewalk signs displayed as inserts in A-Frames common for churches, resturants, and store fronts.
Our corrugated plastic are available in 4mil and 10mil thickness. The 4 mil option features a fluted design making it perfect for using wire stakes that run through the hollow areas of the flutes. The 10mil option features large fluted design making it great for exterior walls, displayed drilled to wooden posts, or displayed on chain link fences. We recommend using corrugated plastic for all of your outdoor signage.
Uses:
» Lawn Signs
» A-Frames
» Photo Frames
» Outdoors Signs
» Church Signs
» Real Estate Signs
» Easel Signs
Benefits:
» Waterproof
» Durable
» Versatile
» Cut/Contour
» Economical
» Lightweight
» Indoor/Outdoor
THICKNESS OPTIONS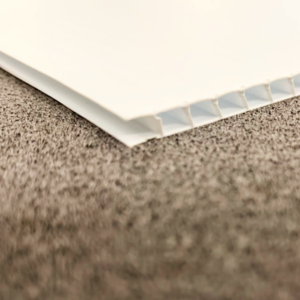 4 Mil Corrugated Plastic
The thinner option is great when you are using these for lawn signs, real estate signs, and sign inserts. If you are looking to use with wire stakes or real estate frames this is the material for you. This is the most popular thickness ordered.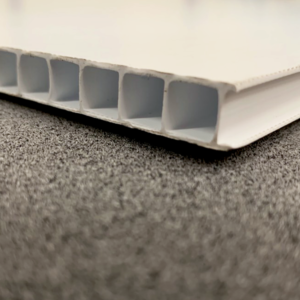 10 Mil Corrugated Plastic
The thicker option is great when you are looking for a longer lasting sign with even more durability. This is great for construction signs, large yards signs, commerical real estate signs, and other exterior signage.
SPECIFICATIONS
Available in 4 Mil and 10 Mil
Available Single or Double Sided, Weather Resistant, 4 Mil fits standard wire stakes (H-Stakes), Lightweight, Durable, Cut Contour
Digital Printed with UV Ink, Full Color, High Quality Print available if requested
With proper placement, care, storage 4 Mil corrugated plastic can last 2+ years and 10 Mil corrugated plastic could have a longer life span