Product Description
Vinyl Banners are common for indoor and outdoor advertising. Our most popular size 3ft x 6ft is a great choice for stores, parties, conventions, and other indoor or outdoor locations. Banners are one of the easiest signage applications to install making if great for all of your advertising needs. Our custom vinyl banners work great for all types of events and occasions including parades, church signs, tradeshows, community events, and much more. Our vinyl banners are an economical and effective way to share your message or your business.
Our custom vinyl banners are all custom sized to fit your exact needs allowing for a wide range of uses and displaying options. Banner material can withstand various weather elements. It can be used for backdrops, retractable banner stands, and indoor or outdoor banner displays. Our banners include grommets placed every 24" unless specified otherwise.
We carry a 13 oz. and 15oz. banner material. We use 13oz. banner material for single-sided prints, backdrops and larger banner prints. The 15 oz banner material is used for double-sided prints. We will also use 15oz. for retractable banner inserts.
We offer a variety of finishing options such as grommets, hemming, and pole pockets. Our standard banners come with grommets placed every 2-3ft to add reinforcement when displaying the banner.  If you choose hemming as a finish option know that double-sided banners need to have a 1" border on all sides. We will automatically adjust your image. If you plan to displays banners outside in windy or high traffic areas, we recommend our mesh banner material rather than adding wind-slits to the vinyl banner. Windslits are not a guarantee for keeping a banner intact in certain elements.
If the shortest side is over 16' then the banner will need to be welded together. Our banner material may vary based on each order. 
Common Banner Sizes: 
4'W x 2'H ;6'W x 3'H; 8'W x 4'H; 6'W x 8'H
Uses:
» Backdrops
» Pole banners
» Retractable banners
» Hanging banners
» Church Services
» Tradeshows
» Holiday Events
» Community Events
Benefits:
» Indoor/Outdoor
» Water Resistant
» Economical
» Durable
» Waterproof
» Verstitale
» Reusable
» Easy Install
FINISHING OPTIONS
FLUSH CUT EDGE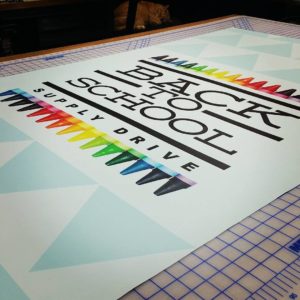 Flush Cut Edges (No Grommets) are used when ordering a banner made to fit inside of a stand or system. When your banner is produced with flush cut edges it will be cut to the exact size of your sign with no finished edges.
GROMMETS
Grommets are 3/8" silver metal rings inserted into the material. This allows you to use ropes, clips, bungie cords, zip ties or other materials to attach your banner while adding reinforcement to the corners. Grommets are typically spaced in all 4 corners and spaced out every 24-36" around the edge of your banner unless specified otherwise. This ensures you have the holes you need to properly install your banner.
HEMMING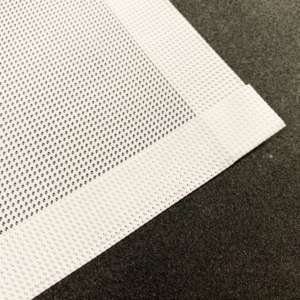 The borders of your banner will be bonded together, creating a strong border that adds extra reinforcement to the edges. Hemmed banners are less likely to be torn or have a grommet rip out, and overall create a stronger sign better suited for extended use and adds a high-quality finished edge. This fold uses extra material outside of the actual print dimensions and does not compromise or reduce the size of the banner. If you are providing your print ready artwork please add 1"border on all sides for hemming. 
POLE POCKETS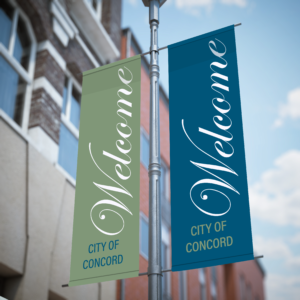 2"-3" Pole Pockets are bonded together creating a strong pocket on your sign to allow it to be installed between poles. We offer pole pockets in the top and bottom (common for backdrops), top pole pockets only (parades and handing banners) and left and right pole pockets. When grommets are selected pole pockets are unavailable. Pole pockets are compatible with both single or double sided banners.
SPECIFICATIONS
Available in 13 oz. and 15oz vinyl banner. The 13oz. is commonly used for single-sided banners. The 15oz. is used for double-sided prints including retractable banner inserts and hanging banners.
Water Resistant, Grommets Standard, Hemming and Pole Pockets Available,  Available in Single Sided or Double Sided
Digital Printed with UV Ink, Full Color, High Quality Print available if requested
With proper placement, care, storage vinyl banner can last 3+ years