Product Description
Social Media Photo Frames make for a perfect photo opportunity for a variety of events and occasions. Use these for graduation parties, weddings, fundraisers, and man other public events. Our frames are easy to carry option that makes for fun photo opportunities for everyone. Smaller Photo Frame is meant for 1-2 people to take a selfie. Large Photo Frame can be used to fit 2-4 people in the shot and are a great option for a selfie station. If you looking to purchase for a company or business use this as an opportunity to help increase your social media presence and your online following. The low price make it an affordable way to grab the attention of the public who are attending your event. Don't worry these photo frames can be used over and over again since they are durable and water resistant.
Our social media frames are made from corrugated plastic, a  versatile and lightweight option. These photo frames are great for small or large events.  There are also a variety of other applications such as bridal showers and weddings. Make each event memorable by ordering your custom photo frames. These signs are digitally printed directly to the material with UV ink. This method of printing offers great quality with no need for lamination or worrying about vinyl peel up. Our printing process allows for full-color printing with a fast turnaround at no additional charge. 
Uses:
» Graduations Party
» Weddings
» Bachelorette Party
» Photo Opportunities
» Fundraisers
» Non-Profits
» Social Media Frames
Benefits:
» Waterproof
» Durable
» Versatile
» Cut/Contour
» Economical
» Lightweight
» Indoor/Outdoor
SIZE OPTIONS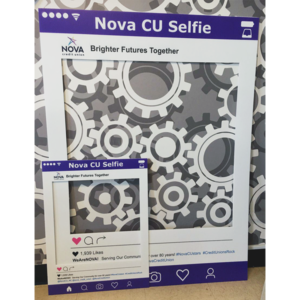 18"W X 24"H Frame Option
This size cutout fits 1-2 people  allowing them to hold the frame in one head and take the picture with the other.
36"W  48"H Frame Option
This size cutout fits 2-4 people and works well for photo opportunity station. Add you favorite text to the frame so others can share their images from your event.
CUSTOM OPTIONS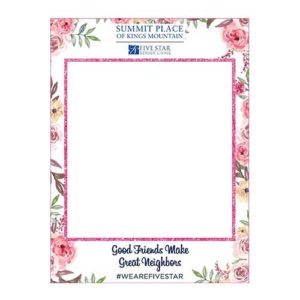 Customize each section below:
- Logo
- Company Name or Person's Name
- Event Name or Phrase
- Hashtag
- Choose 2 Color Options
SPECIFICATIONS
Available in 4 Mil Corrugated Plastic
Available in 18"W X 24"H or 36"W x 18"H.
Available Single Sided ONLY, Weather Resistant, Lightweight, Durable, Cut Contour
Digital Printed with UV Ink, Full Color, High Quality Print available if requested
With proper placement, care, storage 4 Mil corrugated plastic can last 2+ years