Product Description
Backdrop Displays are meant to attract media and allow for an easy opportunity to advertise for your event, social gathering, or holiday church service. Create a photo backdrop that you can use to commemorate the event and create lasting photos that you can keep for a lifetime. Available in 3 sizes our backdrops are made of 13oz vinyl banner material making it great for indoors or oudoors making for the best backdrop experience. This type of signage is designed specifically for photo opportunities and spotlights brands, sponsors, and/or sports teams.  These are often known as step and repeats used mainly for tradeshows and other business-related events. They are designed with one or more repeating logos, hence the name step-and-repeat.
With our backdrop banners, you have the option to order the banner print or banner stand separately as well as the option of ordering the whole kit together saving you time and money. We make it easy to have one product made to order with the stand and print included. Our backdrop stands have adjustable height and width setups to allow for a custom size backdrop print. The robust 1  1/2" diameter telescoping poles allowing for a quick and easy setup. Our backdrop stands include a padded carrying case allowing for easy transporting.
Our standard backdrop banners are finished with pole pockets located at the top and bottom of each print. Please specify if you would like the banner finished with grommets. When ordering the backdrop banner kit or hardware only we recommend solely indoor usage. When ordering only the vinyl banner print and you are displaying the banner with another stand not provided by Deadline Signs we would recommend checking with the original manufacturer.
Uses:
» Photo Opportunities
» Galas
» Sporting Events
» Speeches
» Presentations
» Churches
» Holiday Events
» Community Events
» Tradeshows
Benefits:
» Indoor/Outdoor (Banner only)
» Durable
» Waterproof
» Reusable
» Easy to interchange graphics
» Portable
» Easy Setup
KIT INCLUDES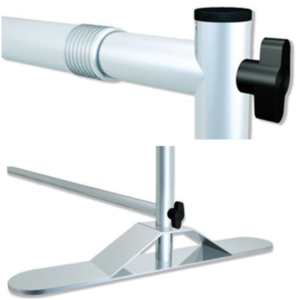 Hardware
Backdrop Banners Kits include everything you will need such as the poles, stands and a carrying case. The stands are easy to assemble and allow for a quick breakdown.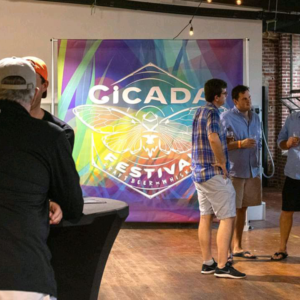 Print
Backdrop Banner prints are made of 13oz. vinyl banner printed in full color and available single sided only.
POLE POCKETS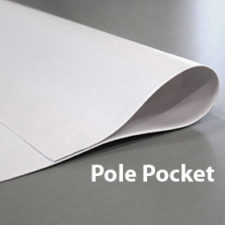 2"-3" Pole Pockets are bonded together creating a strong pocket on your banner to allow it to be installed between poles. We finish our banners with pole pockets in the top and bottom. Please specify if you would like the banner finished with grommets.
Hardware is 1 1/2" diameter telescoping poles and aluminum base, Prints available in 13oz vinyl banner.
8'W x 8'H, 10'W x 8'H, 12'W x 8'H
Durable, Easy Installation, Reusable, Option to Include Hardware and Print, Prints are Single Sided Only, Pole Pockets Included, Carrying Case Included
Digital Printed with UV Ink, Full Color, High Quality Print available if requested
With proper placement, care, storage backdrops can last 3+ years