Product Description
Mesh banners are similar to vinyl banners, except mesh banner has a crisscrossed pattern that allows for wind to travel though the banner making it better for outdoor use. The lightweight material with perforations give it optimal wind resistance. The tiny holes allow for the wind to pass through without harming the banner material.
This material is great for banners with large text and solid colors commonly used for festivals, celebrations, concerts, and store front banners. Mesh banners can be used to hide scaffolding on a construction job or advertise sponsorships on sport fences.
Our mesh banners are finished with hemming and grommets to add reinforcement and extend the life of the banner. We recommend using ball bungees or bungee cords to hang the banner. If the shortest side is 190" then the banner will need to be welded together.
Uses:
» Flag Poles
» Outdoor Venues
» Windy Areas
» Building Wrap
» Large Signage
» Chain-linked Fence Signs
Benefits:
» Indoor/Outdoor
» Economical
» Wind-Permeable
» Durable
» Waterproof
GROMMETS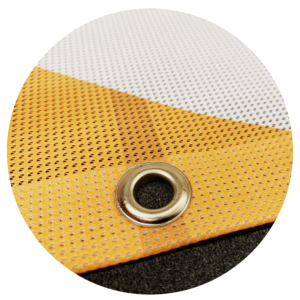 Grommets are 3-8" silver metal rings inserted into the material. This allows you to use ropes, clips, bungie cords, zip ties or other materials to attach your banner to a fence or post while adding reinforcement to the corners. Grommets are typically spaced in all 4 corners and spaced out every 24-36" around the edge of your banner unless specified otherwise.
HEMMING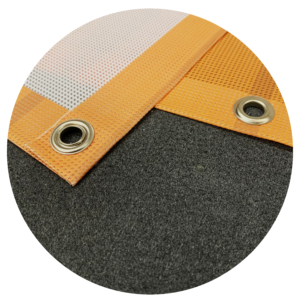 The borders of your banner will be bonded together, creating a strong border that adds extra reinforcement to the edges. Hemmed banners are less likely to be torn or have a grommet rip out, and overall create a stronger sign better suited for extended and outdoor use. This fold uses extra material outside of the actual print dimensions and does not compromise or reduce the size of the banner. If you are providing your print ready artwork please add 1"border on all sides for hemming.
SPECIFICATIONS
Water Resistant, Hemmed Edges, Grommets, Available in Single Sided Only
Digital Printed with UV Ink, Full Color, High Quality Print available if requested
With proper placement, care, storage mesh banner can last 3+ years