Product Description
Custom metal signs are great for offices, stores, reception areas and outdoor signs. The weather resistant material works great for a variety of uses including real estate signage. Our metal signs are made of Aluminum Composite (ACM). Our metal signs are durable and are rust free so it will stand up to weather elements. ACM can be used to mark property, give directions, and looks great for interior signage.
ACM is a polyethylene core with thin lightweight aluminum on both sides. This material is durable, and ideal for medium-term to long-term signs both indoor and outdoor. These signs can cut to different shapes and sizes. We can also include drilled holes for a variety of displaying options.
Please note: We do not carry 6 mil ACM in stock. It is a special order. Pricing and availability may vary. Please contact us before ordering.
Uses:
» Outdoor Signage
» Construction Signs
» Real Estate Signs
» Menu Boards
» Directional Signs
» Office Signage
» Directional Signs
Benefits:
» Indoor/Outdoor
» Smooth Finish
» Durable
» Waterproof
» Durable
» Long Lasting
» Cut/Contour
THICKNESS OPTIONS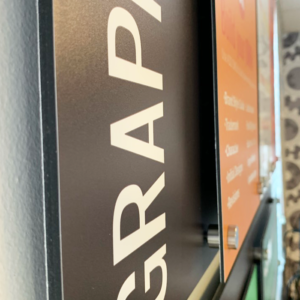 3 Mil Aluminum Composite
This thinner material is commonly used interior signs and real estate signs while mainting its durability.
6 Mil Aluminum Composite
The thicker options is a great way to create dimensional signs adding thickness and creativity and works for great for outdoor sign displays.
SPECIFICATIONS
Available in 3 mil and 6 mil
Polyethylene core with a thin lightweight aluminum sheet on both sides, Double Sided NOT available with 6 mil ACM, Cut Contour, Durable, Waterproof, Long Lasting, Rounded Corners Recommended
Digital Printed with UV Ink, Full Color, High Quality Print available if requested, White ink NOT available
With proper placement, care, storage 3 Mil ACM can last 5+ years and 6 Mil ACM could have a longer life span